Clearing Waves Before Facing Boss
Total 6 centaur waves, each wave more centaurs will be spawn, 3rd & 6th waves Centaur Generals will be activated. Also when you clear 3rd wave that will be your save point which means when you reset fight and reenter it will be starting at 4th wave.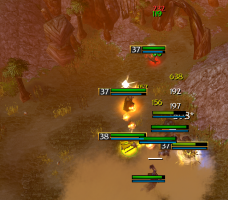 3rd Wave "Harbringer Ithan"
Whenever he says "by the light ,be blinded" don't look at him. Spawned light orbs has AoE DoT damage & heal the boss. Each 4th text message "The light shall infuse me with power" burst him to prevent get hurt badly.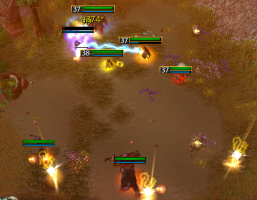 6th Wave "Harbringer Larthil"
Phase 1: Boss says Larthil glances quickly at "player name" , avoid from that spot the time you called. Nets all players whose close that spot. Net does DoT, should be killed asap. He does that two times.
Phase 2: All players should hug each other to grab spears he throws on all players 1 by 1. Player number = number of spear he throws. Spear does DoT & stun players. Spears should be picked by other players "1 empty bag slot needed to grab it"
Phase 3: Cast shockwaves 360° around him randomly. All players use their spears grabbed at P2 to interrupt him.