Clearing Waves Before Facing Boss
When reaching the end of the valley, you will encounter waves of enemies that you need to defeat in order to face Crueltis. There are 6 waves in total, with a Mini-Boss at the 3rd and 6th wave. Defeating the Mini-Boss also serve as a Checkpoint for this challenge.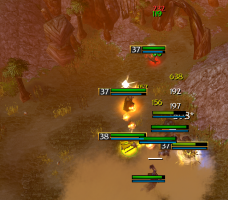 3rd Wave "Harbringer Ithan"
"By the light, be blinded", whenever he says that don't look at him. Else you take high damage and are stunned for 3 seconds. After the cast, he also leaves behind a light orb that deals damage to you and heals Ithan periodically. After three casts he will proclaim "The light shall infuse me with power", which increases his damage dramatically. You are required to burst him down before his damage output becomes unsustainable.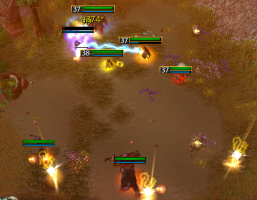 6th Wave "Harbringer Larthil"
This Miniboss has three phases that repeat until he is defeated and required more coordination than Harbringer Ithan.
Phase 1: The game announces Larthil glances quickly at "player name" and will then throw a net at the called out players location, ensnaring all players that stand near that spot (Similar to Karavnos's Frost Circle attack). If a player get's hit by the net, they are stuck and take moderate damage over time. Players are required to destroy the net to free the player. Boss uses this ability twice, before switching into the next Phase.
Phase 2: All players should huddle together and hug. He will throw spears at players that stun them and deal moderate damage over time. To free the player, you are required to pick up the spear (it's a item on the player) into your inventory. This requires you to free 1 inventory space. Boss will throw a spear at each player, before switching into the next Phase.
Phase 3: Boss will cast Shockwaves at random locations all around him which deal high damage. All players are required to use the spears (Left Mouse Button) picked up from Phase 2, to stop him. After he stopped casting, he will revert into Phase 1 again.