Tol'Calm
Main Quests
1 - Village Elder
After picking a hero and entering first town talk to the Royal Guard. Find Village Elder top left area, near circle of power. New quests will be unlocked.
2 - Restoring the Portal - Giver "Portal Master NPC" (prerequisite Village Elder)
Deliver the Sealed Scroll to the Vormur Portal Master. "Unlocks status 1 - Allow Warping between towns". Later go talk to the Cleric at Vormur Temple (at the top of the map) for next quest line "Proving Your Worth"
3 - Knock Knock - (prerequisite Village Elder) - "Require to access to the next town"
Talk to Royal Guard standing front of the closed gate, find and slay Crizzy to unlock temple gates.
Side Quests
1 - The Gnoll Threat
Talk with Soldier who stands at the exit of town between two towers. He wants you to slay different type of gnolls in Vormur Forest.
2 - Save My Baby! - Giver "Nancy"
Talk to Nancy she's left side of "hero saver NPC". She asks you to rescue her child, who is trapped in a cage near the orc camp in the Vormur Forest.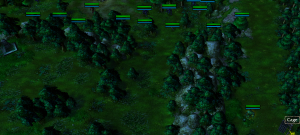 3 - First Class Mail - (prerequisite Village Elder)
Right side of the Village Elder there is a Female Villager. Deliver the letter to Loric at Vormur Temple.
Part II - After taking "Proving Your Worth" quest. All quests below can be taken near Gate area.
1 - Wanted: Krix - Giver "Royal Guard, right side"
SW corner you can find him along with other scorpions.
2 - Detoxification - Giver "Npc Cleric"
Slay the Black Widow and bring her Venom Sac to Cleric.
3 - Radiation Poisoning - Giver "Priest Harris"
Find Barrel of Explosives before entering the cave you will see a small area on your top its in there. Find Radioactive Crystals and "interact" with it keeping explosive in your active bag slot.
4 - My Expensive Equipment! - Giver "Surveyor Richard"
Slay Sludge Mutant get the Equipment and return back to its owner.
Vormur Temple
Main Quests
1 - Proving Your Worth - Giver "Cleric NPC"
Get the Tol'Calm Cave key from priest, go first town unlock the gate (NE) then slay the Brood Mother. Go back to location where you took the quest and talk to the other Priest (disables barrier to get into Vormur Gardens) for the next quest line.
Reward: Offhand item related your class. After unlock the barrier enter Vormur Gardens to get Status 2.
Side Quests
1 - Wanted: Razzick - Giver "Captain Renault"
Slay Razzick and his band of gnolls in the Vormur Forest NW area.
2 - Medicinal Purposes - Giver "Priest Thadious"
Find 6x Plant & Herb samples (Strange Herb) scattered around Vormur Forest , and give it to Priest Thadious.
1) North little left side of gnoll camp.
2) After exit from 1st town bottom left.
3) East, right side of the lake.
4) West, little left of campfire.
5) Where you rescue the Nancy's child.
6) Near obelisk on the hill area.
3 - Training Grounds - Giver "Harvil"
Find the Training Grounds. Enter via hidden entrance or use Vormur Portal Master to find.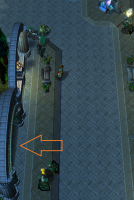 4 - Eggtastic - Giver "Priest Jarod" - (prerequisite Proving Your Worth)
Collect 5x Mutated Eggs from Tol'Calm Cave and give it to Priest Jarod. Each of them are surrounded by dozens of mini eggs.
5 - Tol'Calm Cave Infestation - Giver "Soldier Thomas" - (prerequisite Proving Your Worth)
Slay different kind of spiders inside Tol'Calm Caves.
6 - The Investigation - Giver "Sorcerer Jenida" - (prerequisite Wanted: Razzick)
Use the Wand of Summoning front of the obelisk at Vormur Forest. After slay mini boss return back for reward.
Vormur Gardens
Main Quests
1 - The Betrayal - Giver "Cleric"
Slay Narith, and talk with High Priest. South of Tol'Calm enter the opened gates to unlock status 3. Its enough for 1 player to enter the Tol'Calm Front Gate to unlock st3 for all players.
2 - The Vormur Corruption - Giver "Captain Barrith"
Slay all elemental zombies (Fire>Lightning>Frost>Poison) in order to proceed further in dungeon. Each slayed zombie unlocks the next corresponsive door inside catacombs to proceed further.
Flame Corpse > Frontal fire waves, immolation, fire explosion on random player creating DoT on the spot if stand on it.
Lightning Corpse > Dot on all players inside that room, when he stops auto attack starts to cast a spell sending grayish orb like sparkles towards nearby all players follows them until certain distance. Tank him at corners to corner each time to avoid easily.
Frost Corpse > DoT on all players inside that room, frost explosion occurs all time, sends an ice orb which explodes after some time deals moderate damage. Slow aura which reduce all players move speed by -48.
Venom Corpse > DoT on all players inside that room, spawn a poison cloud on random player each 10 second does DoT.
The Vormur Corruption & The Betrayal: Taking both quests destroys the wooden crates on your left and allows you to enter the new region.
Side Quests
1 - Spirits Gone Wild - Giver "Soldier"
Slay red/green/black/blue spirits. Focus on Green > Red first.
Red > Casts flame strike
Green > Heals other wisps
Black > DoT around him whoever gets close
Blue > Ice Nova AoE
2 - Books of Value - Giver "Trainee Priest"
Collect 4 books inside the Library.
3 - Unexplained Evil - Giver "Gunman Smith"
Clear the catacombs from all undead beings. Those blue flames you will encounter inside the dungeon when get close to them summons pack of undead.
4 - Save the Fallen - Giver "Gunner"
Use Wand of Separation near fallen soldiers.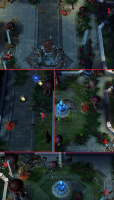 5 - Put Them To Rest - Graveyard Area given by Ancient Ghost
Use Wand of Dispersion near the white orbs to slay zombies you spawned.